You seek qualified business prospects interested in relocating or expanding to your area…
We will connect you with businesses within our network who have already expressed a need to relocate or expand.
We will implement our world-class Prospect Development Program to bring you a constant flow of qualified prospects interested in considering your specific area.
Trade Missions – Trade Shows – Conference Call
– View complete list of trade shows
– Download PDF file of trade shows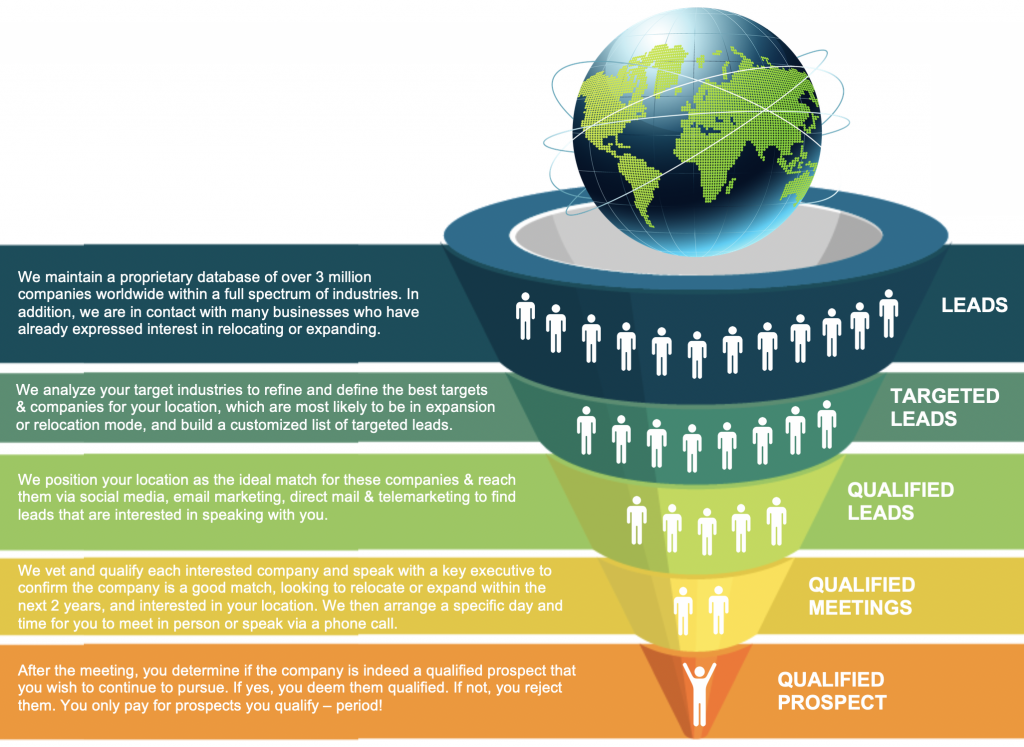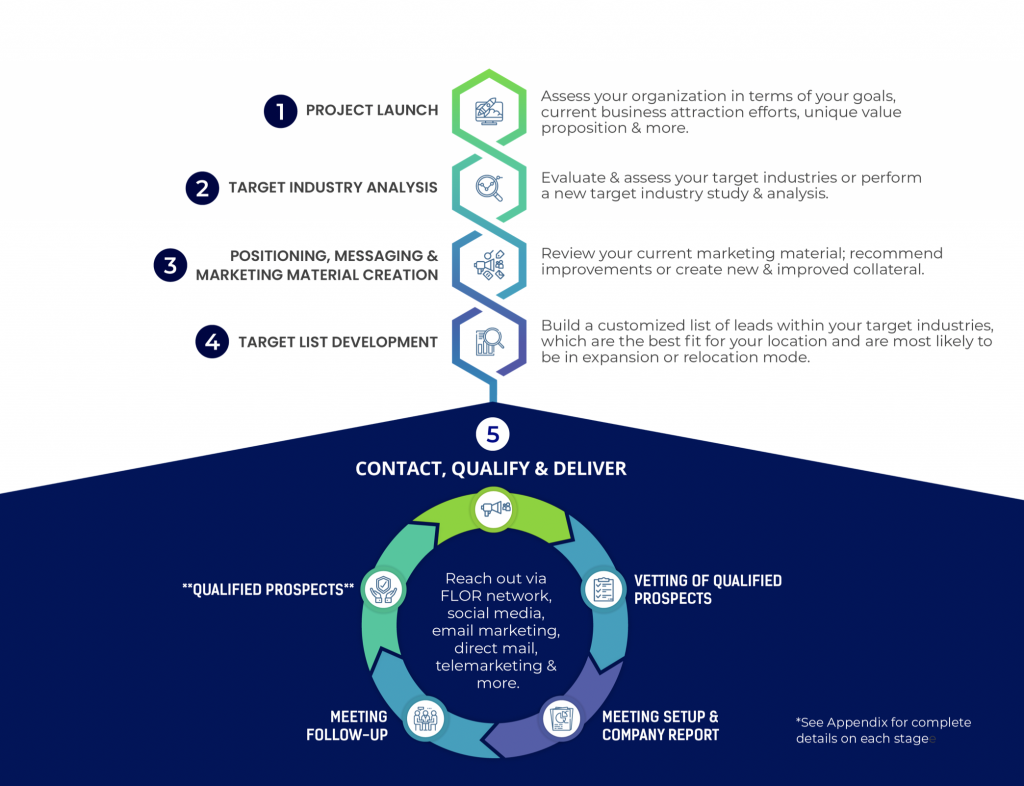 The FLOR Group proven lead generation & Prospect development process :
Proprietary Database
FLOR Group has built an industry leading proprietary database that is second to none. This database is worth more than some entire retainer fees due to its sheer depth of information. It is the heart of our market intelligence and is constantly-evolving as a result of our extensive and meticulous research. Utilizing this database, we are able to accurately identify companies within your target industries who are considering relocating or expanding, analyze to what extent your area would align with these prospects, and supply a thorough report of all relevant factors for each qualified prospect. This dual-threat algorithm, and all it presents from an analytical standpoint, is unparalleled in the world of economic consultation. We do not sell our lists or provide access to our database system because we consider them to be priceless.
Network
Upon logging almost twenty years of doing anything, experience is a natural byproduct, a certainty. Second to experience, is something of invaluable importance in the realm of modern economic development – Connections. FLOR Group has orchestrated a vast array of projects spanning the globe; as a result, we have developed a densely populated database through a myriad of channels. Our fingers are glued to the pulse of thousands of businesses allowing us to identify the following: Who's moving? Who's expanding? When? and Why? Thanks to over eighteen years of ceaseless evaluation and networking, we have formed inseparable connections in essentially every climate, customer-base, economy, industry, and region imaginable. We communicate with our vast connections to uncover and match the ideal prospects to your location and industry targets.
UVP (Unique Value Proposition)
FLOR Groups works with our clients to fully understand their location specifically related to each target industry. FLOR Group then works with our clients to develop and refine a UVP specific for each campaign that will generate the highest degree of responses from the most qualified prospects.
Multi-channel Marketing
Multi-channel marketing and multi-touch marketing has proven to generate the highest quantity of qualified prospects possible. FLOR Group has effectively utilized this approach for each of their successful projects and will use it for this project.
After developing a brand and message which best communicate the targeted message and present your region as the best alternative for your target industries, we will create the following:
Microsite: The custom and responsive website is created from specific information found on your current website and promotional documents you provide to detail the reasons your region is an ideal location for your target industries and provide precise information to demonstrate your area is ideally suited for the industry's specific wants and needs. This website includes various pages relevant to the target industries, a contact form, email address, and toll-free number which are set up in your name but monitored by FLOR Group associates. We do not use your current website in the marketing materials since this campaign website is a means by which we vet and qualify prospects before arranging your conference calls.
Email Newsletter: The email newsletter will be delivered directly to the computer and mobile device of key executives in your target industries to request a conference call and will detail the reasons they should consider your region as a location for their company. We will embed the developed website link in the introduction to encourage the contacts to visit the website for more information. The contact can then fill out the form on the website, reply to the email, or call the toll-free number to schedule a convenient day and time for the call or meeting with the FLOR Group associates assigned to your project.
Direct Mail: FLOR Group will develop a customized mailer which communicates the UVP of your location. This mailer will be sent to a select group of executives within the target industries.
Telemarketing: Our Project Lead will personally contact the key executives which respond to the email, call the toll-free number, or submit the website form to qualify and arrange conference calls for you. The Project Lead is trained for your specific project, given a script which contains details regarding your campaign, and persist until they are able to speak with the decision maker to qualify the prospect. Each marketing vehicle allows the interested company to call the toll-free number which is set up in your name but monitored by FLOR Group associates. In addition, our Project Leads will make outgoing calls to a select list of companies with the highest potential to be a qualified prospect.
"FLOR Group filled our vacant building! Using their National Conference Calling Strategy, I was able to have in-depth conversations with executive level contacts and arrange site visits, with those that were interested. They worked with me to schedule the conference calls at my convenience and provided detailed reports which aided in my preparation for the conversations. We are highly satisfied with the outcome of this project and plan to use FLOR Group's services for more projects this year."
Terry Wegman
Executive Director
Big Spring Economic Development Corporation – Texas
"We were very impressed with FLOR Group's ability to prioritize quality over quantity for our recent Trade Show event. The majority of our scheduled meetings spoke about plans for expansion with the potential of locating in Idaho. We were also pleasantly surprised how comprehensive FLOR Group's work was from beginning to end with little direction needed from our team. Overall, we are pleased with the results provided and are considering using their prospect development services for upcoming events."
Autumn Braase
Senior Business Attraction Specialist
Idaho Department of Commerce
"Another great call this morning with a prospect – they are currently looking for a location, and said we were not even on their radar until we reached out to them through your marketing efforts. You guys are impressive! I was on the call this morning with Gulf Power and the building owner, and afterwards we all said you guys are great."
Shannon Ogletree
Director
Santa Rosa County Economic Development Council part of Florida's Great Northwest
"Our economic development organization brought the FLOR Group on board to help us develop leads and set appointments at the 2018 National Plastics Expo in Orlando, Florida. The firm was easy to work with and delivered both on time and exactly as promised. We had a phenomenal week at NPE as a result of the assistance that we received from the FLOR Group and look forward to investment in the state of North Carolina based on the relationships that we started building while at NPE."
Carl Rees
Senior Economic Developer
ElectriCities of North Carolina
"The FLOR Group successfully arranged a productive business development Trade Mission for us to California. Their team's constant communication and flexibility were key elements in organizing and deploying a strong trip with results."
Jennifer Conoley
Senior Economic Development Representative
Gulf Power Company
Flor Group did a fantastic job on our recent virtual prospects campaign. The process was smooth and very easy. Most of all we have several hot prospects who will be locating to our area within a year or earlier. We have used FLOR Group for several years resulting in several companies locating to our region. This latest campaign was the best so far."
Stan Thomas
EVP, Business Development
Economic Development Authority of Western Nevada (EDAWN)
"We have had 16 companies locate in Northeast Texas due to your marketing efforts and have many others in our pipeline."
Roger Feagley
President
Northeast Texas Economic Alliance
"Working with the FLOR Group resulted in our most successful Foreign Direct Investment attraction effort yet. FLOR Group became part of our market team and their effort resulted in several qualified prospects – prospects that led to new business."
John Powers
Director
Kitsap Economic Development Alliance, WA